On Friday, I just went to school, and went back my house.
One my classmate asked me to go heritage park. So, I decided to join.
Cooked Japanese style stew including many kind of vegetables.
On Saturday, leave house at about 9. I met my classmate at heritage station, C-train. There were many her firiends and thier friends. All of them are Korean and Japanese. In that park, there are lots of western style building and the lake.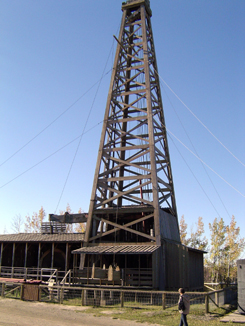 Had a great time, but I had to leave there about 12, because I had an apointment to meet another classmate in library. Was late for meeting time. So sorry. Tried to use computer in library but neither my friend nor I have library ID card. Went to his apartment and looked for information about Calgary tower. One HP has much information. We picked up some infromation. Went back house. In that nights, both of my roommates stayed in their friend's house. So, I was in house alone!! So, lonely. I chatted with my friend who was my classmate two month ago. Then she asked me to go to eat supper with her and her friends. I decided join them.
On Sunday, one sound woke me up. Momo made that sound duaring walking. After got up, used computer, watched movie and did my homework. Asked my friend, Tomo, who I met yesterday to join us. He would join. Left house to go downtown. Met my friends but Tomo didn't appear..... I forgot to bring his cell number memo. So I couldn't call him and went to eat without him. Went to Vietnamese restaurant. We ate good food. Enjoyed conversation but unfortunately it was Japanese...Anyway in this weekend I joined my friends' companies and enjoyed it!