Planed to go to London, Ontario in order to meet my girl-friend again.
Had'nt seen her for about 4 month.So, I was excited.
Left my house at 11:00PM. Fright time was 0:40AM, midnight.
It took 4 hours from Calgary to Toront and time lag is 2 hours.
So I arrived at Toront Airport before 7AM.
I arrived at terminal 2. But at first she visited terminal 1.
Called her and met each other. She is as cute as before.
After that, we ate chicken pita and went to downtown of Toront.
Changed the subway, arrived at there.
My first impression of Toront was stinky......
Actually, there was bad smell......
Went around U of T, got in bookstore in University.
Found MONOPORY of TORONT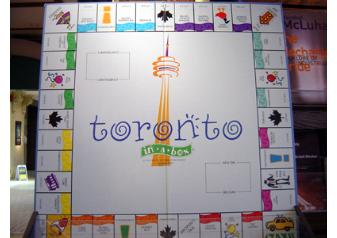 and keyholders which are shaped parts of body like heart, knee, skull, and so on.
We were excited!!!!!
For time was opening of Royal Ontario Museum, we went to ROM.
Saw many displays of fossils and so on. .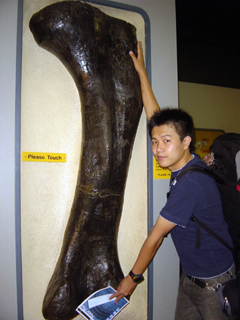 They were great but way to display was not good.We were disappointed.
Next, went to Korean Town to eat lunch!!
Few minuites after we arrived there and ate lunch.
Odered two dishes, one of which was spicy, the other was cool nodle.
That combination was so good. Enjoyed our lunch!!
I wanna eat these again.....
After leaving there, we went to China Town to find Majan Pai.
Were able to find without a big problem.
Then we left Toront to London, Ontario.
It took about 2 hours from Toront to London.
London On. is bigger than my thought, tall building, big mall.....
Went to meet her friends, Mori-san, Yu and Aya-P, in tennis court and played tennis with them.
That was good excise for me because I didn't do excise after I came to Canada. So, I got tired.
After playing, we went to her friend house next.
Ate supper , talk something and played card game.
Next to that, my girl-friend and I went to her apartment and slept soon.
I had fun time