S
M
T
W
T
F
S
1
2
3
4
5
6
7
8
9
10
11
12
13
14
15
16
17
18
19
20
21
22
23
24
25
26
27
28
Today I went to Heritage Park. It has Western Canadian traditional houses and something traditional. Actually, it was second time and kind of school activity.
Met my friends in front of my school building and Heritage C-train station. It was snowing. In station, there were a lot of people to go Heritage Park. Wanted to walk to there. I asked friends and they walked with me. It took about 30 minuites and it was snowing. Everybady was freezing. Felt so sorry.
After arrived at Heritage Park, went to a cafeteria because it was time to lunch. Each person ate each different food. Walk around and saw many places. It is quite big place. So, could'nt see all. Enjoyed it.
After left the Park, went to my friend's apartment. We planed to have party there. In the way to the apartment, we went to a supermarket, Safe way to buy food. As got the apartment, we prepared meals. We were hungry!! One Korean friend prepared Korean food, Chika and I cooked Japanese food, TONJIRU and NIKUJAGA. about 1hour after, it was almost prepared. Started eating with beer. Everything was very tasty and delicious. Had fun and enjoyed absolutely. One Canadian guy also lives there and he joined us. He is nice. Little by little, everyone got drunk and tired. Before 11, three of them went back to thier house. And around 11:30, one Korean Guy left. The others stayed there until Sunday. Some of them left house around 9AM, Chika and I left the house around 1:30 PM. My friend prepared lunch for us. I really appreciate her.
After I went back home, took a nap. Did my homework.
The weekend was very very excited. I'm really really glad to have many friends. And I got rid of my stress. Now, I'm great!!
Before, I wrote down "I'm insecure". But now I'm not. Don't worry about my condition!!
Friday, we don't have a afternoon class. But, nobady asked me to go somewhere. Until 2pm, I studyed in the classroom. Went to a library to study. Actually, we planed to have a study group. However, one of my member had to do something. It was cancelled. Met my ex-classmates and talk to them and Chika joined. Around 3:30, Ryousuke appeared in library. I thought he went back to home, I was supprised. Chika left library about 4:20. Left library 5. After that, I walked around in down town. It was not cold and not windy. Ran into one ex-classmate. About 6pm, left down town.
Nowadays my feeling is very insecure. I don't know why, but I am. I need more rest and time to think about everything.
Tomorrow I am going to join a party and we are going to friends house. Looking forward to that!!!
Today, we had a practice test. Its result was not too bad.
After class, I went shopping with my classmate. I want to buy a wallet. At first went to TD square and around there. We have no ideas where I can buy it. Eventually found wallets many shops, but there no my preferance wallet. Walked around down town and saw several shops. But couldn't find a good wallet. Around 6 PM, our shopping finished.
After arrived my house and ate supper, one of my ex-classmate, Cheol Min called me. He is going back to Korea. Tomorrow he will leave Calgary. He is one of my first classmete in recent school. I was gald him to call me. He is such a nice guy. I didn't expect that he would call me. I like him and I miss him. I hope I'll see him again.
On Saturday, joined hostmother's granddauter's birthday party. It was held in kind of gym. They borrowed one room to take place party and she opened many presents. She was very happy. And we went to inside pool. I have swum since in high school in a pool. Water in pool was warm. With one mother's grandchild, Xavior all time. Doing water slider was first time. Very exciting. We did four times. Next, we went to mother's son's house and ate supper. Came back to house around 9 PM. Fell a sleep without notice.
On Sunday, I did homework mainly. Actually, that day was Momo's birthday. We had a party, but mother's condition was really really bad. So, it was not very big party. She also got many presents and looked very happy. I gave a small vase. After that, saw a movie "Peter Pan". It was good movie. I like story of Peter Pan.
After class, went lunch with my classmates to Singapore restautant. It was almost same as Chinese reataurant. Went to ex-school, Omunicom and met ex-teacher. Glad to see her again. Looked around down town to find my housemate, Momo's present. Then met some of my friends. Calgary down town is very small. If I walked around in down town, I would meet many acquaintances. It was funny. Meeting time was 5 PM in front of library. After meeting my friends, decided to go to Echoes. In Echoes, we ate Korean food, drank, and sang many song. I sang a lot of song, Green day's songs, ENKA, and so on. Talked with friends and decided to have a study group on Fridays. We enjoyed and one of my friend was drunk. She regreted that we went back to house very very much because she drunk too much.
Went back my house last Saturday, one of my housemate was back from New York. In addition, the new student was the house. Thought he would be here from Korea. But, he just changed his homestay house and I saw him many times in school. He is my friends' friend. Our community is...small!!??
On the weekend, just stayed house.
Saturday saw one movie "Down with Love". Mains were Renee Zellweger and Ewan McGregor. It was not so bad.
Sanday saw one movie "Big Fish". Main actor was Ewan McGregor, again. This was really good. Almost cried. The story was based on the stories that the father said. I recommend and wanna see again.
Last Friday was Graduation ceremony day. That was 4th time and it is held once per 4 weeks. But, it was the saddest graduation ceremony day. Many of my friend graduated from GV. Some of them are going back to Korea, the others are going to another school. Because spent long time with friends, that separetion was very sad...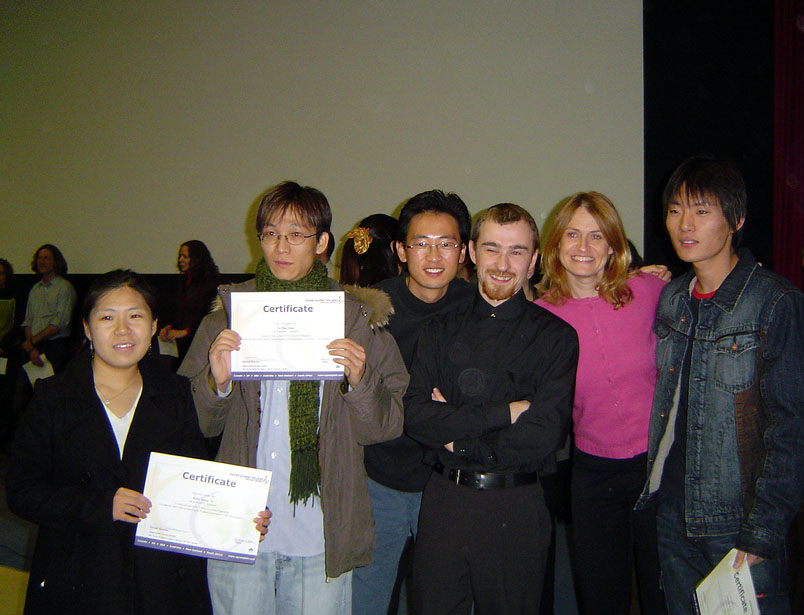 After the ceremony, went to Japanese restaurant with many friends. That was nice place, taset also good. The name was "SUKIYAKI HOUSE". However nobody ate sukiyaki. Next time try! After that some of them went thier own houses. Went to a theatre with the other friends. Saw "The Incredible" Actually, I had never seen PIXER's movies: Toy Story, Bug's life, Finding Nimo, etc. That was very very nice!! It was based on a kind of hero story. If I have a chance, I will see again. Went to one pub. Enjoyed time with friends. They are really good friends. I never forget them. I must meet them again in Korea or Japan.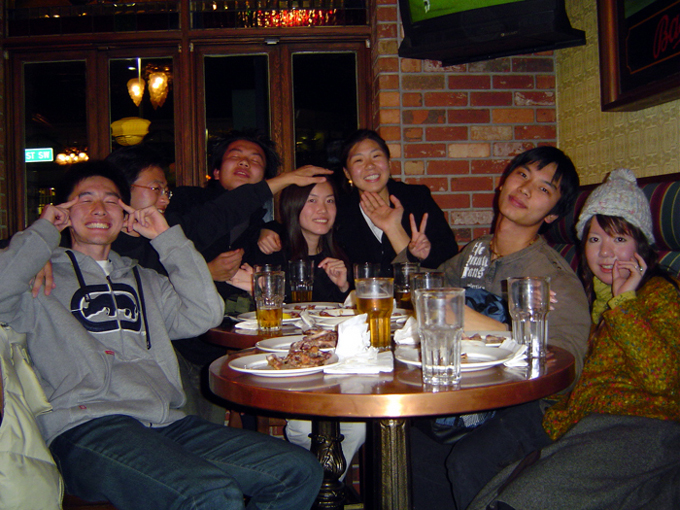 We celebrated my ex-classmate, Cheol-Min's birthday. He was my first classmate in GV. Such a nice Korean Guy!! The party was in SOLE, Korean Karaoke pub. Many his friend joined that party. Had extermely fun!! And I drank
Korean Shocyu. I think its tast is like Japanese liquor between sake and Japanese Shocyu. I like it. He is going back Korea. I miss him. Very friendly, nice, good person.
Friday is Graduation ceremony. Many of my friends are going to their countries. I miss them.
After school, Min Sang, Ryosuke and I went to Vietnamese reataurant in China town. That was third time to visit there. Tast was still good. I like it. But, that restaurant has just three main dishes: nomal Vietnamese nuddle, spycy nuddle and, non-soup nuddle. However, we can choose toppings. I have already eaten all of that.
After went back my house, moved my bed to the room next to my room. Now that room is empty, so hostmother cleaned up that room. New room is more bright, esprcially morning. I was very happy. Next, I saw one movie "Mr. Deeds". I saw that before in my house. It was my preferance. I liked it. Although that was second time to see that movie, I enjjoyed it. I like a acter Adam Sandra. FInishing that movie, I was changing TV channel. Found "Final distination 2". It was next moive of "Final Distination", kind of horror movie, before I saw. But, felt I saw that movie before.....That remainded me. Also I saw that movie in Japan with my parents. However I didn't remember the title. I wondered and looked some topics about that movie in Japanese HP. Found and recognize. Japanes title is entirely different from English title. Japanese one was " Dead Coaster". Why was it different? Actually I found many movies which of title were different from Japanese. It is really confusing...
Friday,had only morning class. After class, my classmate Min Sang asked me and Ryosuke to go lunch. At first we were supposed to go to a Vietnamese restaurant close to school but Ryosuke suggested go to another reataurant. For, we went to that Vietnamese restaurant. Went to a chinese reataurant. It was very busy because of lunch time on Friday. 15 to 20 minuites after waiting, we had a seat and order several dishes: shrimp fried rice, kind of YAMUCHA (Japanese call that) and one rice noodle. These dishes were good!! (except noodle, it tasted light...) And We ate chiken feet!! They were not legs, feet!!! Three toes...That looked disgusted, but I get used to see that soon. Tast was good, maybe it was soy source, some spice, cooking liquor and vinegar. Enjoyed. As soon as finishing, we went back to the school and study. At 3 o'clock, Ryosuke and I left for down town. Min Sang stayed there. Our plan was just window shopping, but Ryosuke bought CDs and a binder. Went one shop that had a lot of displays of Christmas. I like this kind of stores. After that we went to GEOS, because he wanted to join GEOS party if there were his friends. That was my first time to visit GEOS in Calgary. He found several friends that would join the party, so, he must have joined them. Went back my house and figured out my problem about my credit card and visa and so on. After, just relaxed and go to bed.
Saturday, woke up at 11:30 AM. I had a long sleep. After ate branch, I saw the movie "day after tomorrow" with lying. So, I fell a sleep. Finally, I got up at before 5 PM...In that time, there were many people in the house, like usual. After supper we play cards.Next to that, I relaxed again and fell a sleep without notice. Maybe that was around 12 AM.
Sunday, Woke up at 9:30 but, went back to sleep. Finally, got up at 11:00 morning. After breakfast, I tried to do my homework. Actually that topic was really dificult for me. As starting doing my HW, I minded my PC and mess. But once starting cleaning up, I felt like studying...Anyway I wasn't able to cuncentrate to stady...I took a nap from 3 to 5 in the afternoon. Today also there were some mother's relatives. Ate supper and play cards three times!! As the results of cards, I was beaten hollow. Towice last place, once second last place....but, enjoyed!! I have to revise my assignment...I don't think that is good. Nowadays I'm getting lazier to do my homework. Brace myself!!