Today I bought the airplain ticket to Japan. So, now I can go back to Japan.
Also, from tomorrow, I'm gonna visit my Ayumi. It's gonna be fun!!!
I had a party for two of my friends, Ko and Joey. Both are going back Korea, and also next monday, 28th is Joey's birthday. Our party was supporsed to start from 7 and I arrived there few minutes late. But there was only Ko. About 15 minutes later, almost all of them appeared. We celebrated the birthday and farewell.
The fun time passes very fast, around 11:30 PM, the party was over, we all left there.
I really miss my class...
Today I went out because I didn't want stay inside more.
I went the mall that is the closest to my house. It takes about 15 minuite by walk.
There, I bought toilet things, such as soups and a tooth brush. I didn't go out since last Saturday. I felt that is very nice, I'll go outside more, even if I don't meet somebody special.
In the evening, suddenly I felt like see the movie "Brade 3: trinity". I went the theatre that is close to my house. The movie was from at 10PM. Before I arrived there, I didn't know that the movie run was last time. They was gonna change schedule from Fridays usually. I was kind of lucky!! I enjoyed seeing the movie. Actualy, actress and acters were speaking little bit faster than other movies, I felt. However I can enjoy. I like that show.
Today, I woke up around 7 to call my parents. After that, I cooked breakfast and saw the movie "the scout". It's about a scout and a baseball player. Around noon, my housemate's friends came my house. Because one of them wants to move to here. They cooked lunch, Korean food. It was kind of noodles. That's good. I had to arrive the station which is the closeat to my house at 3, I left home quoter before 3. I met friends at station, and went theatre. Actually, I wanna see any movies, but because I said I wanna see Ocean's twelve, we chose it. It cost $2.50. That movie was good, but the contents are really complecated and actors and actresses spoke very fast. I was not able to understand exactly. After the movie, we went a Japanese restaurant "Zipangu". That was really good. I ate many Japanese food, mainly Sushi. I did know that restaurant name, but I'd never been there. That atmosphere was also good, and dishes are really tasty!! However they cost higher that others which I've been to. I talked a lot and enjoyed time with my friends. Had the time of my life!!! Because of my appetite, I gained weight......
On Friday, I dicided to go out! I feel staying in house is really unhealthy. I went to my previous school, GV, and I met some of my friends. I enjoyed talking with them. Meeting friends and talking to friends, I mean going school, are really good as I know. Just I stayed in downtown around 3 hours, but I enjoyed.
I will go out in next week!!
After I came back house, I got phone and my friend asked me to go to a movie. I, of course, agreed.
In this week, I didn't go out, because if I went to downtown, I have to use transit ticket. I didn't wanna use it. It meant that I stayed at home at all. Mainly, I relaxed, watched TV, saw movies and used Internet.
On Wednesday, I had a chance to talk to one of my firends who was gone here.
And I got TOEFL score!!! That's kind of amazing!! I got 213!! If I got that score, I can get permission to enter University. Actually, for graduate school, I have to get at least 237. It's little difficult but that's not impossible, I can do it!!
I got confidence of TOEFL.
↓That's evidence!!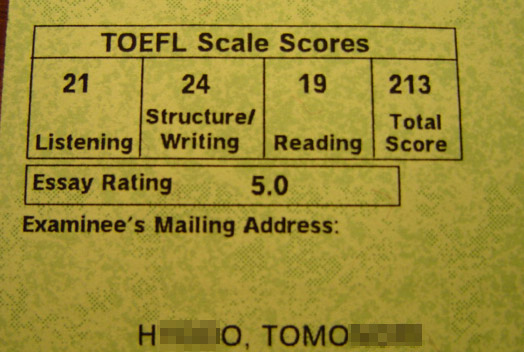 Today I went to the airport to see off three of my friends.
In the morning, one left. She is Japanease and my good friend. Her host familly was also there and children played with her. While we were waiting for her fight, many of her friends came to the airport. She must have been happy. Total 8 of her friends came and saw off her. That was really nice. The number of friends who came to the airport to see off her means how nice she is. Of course she cried, but her hostmother said many times " see you soon!!" That sounds really better than "Good bye", I felt. She was happy to have nice friends and nice hostfamily. Soon after she went through the gate, it started snow in the way city also to be sad for apart of us.
After I saw off her, I stayed there because other friends also left Calgary this afternoon. Untill noon, I stayed there, read a book and studyed. After I ate supper, I took a nup.
Around 12:30, I found one of them who were going back. She and her sister were going to Vancouver and going back to Korea. It's about time that her sister came to the airport at a quoter before 2. Actually thier fright time was 2:30. We didn't have long time to be reluctant to part from them. I'm really glad to meet them and spend same time.
In the way to home, I felt something I forgot.
Actually today was my birthday but many of them forgot about that. I wanted to remaind them about that, but I forgot it, too. Maybe, I wanted to think a great deal of time with them. That's not sad for me.
After I arrived home, one of my housemate gave me a present.
And, hostmother's son's family came house and they prepared supper for us. Also they gave me some presents and celebreted my birthday. What a nice homestay!!
From tomorrow, I don't need to go school. I feel something strange.
Today one of my friend went back to Korea, actually before that, she went Vancourver. That's reason that I woke up earlier than usual weekend. Her flight time was noon. In the bus, I met my old friend in Calgary. He was my first class mate and he was really nice to me. I stayed just 4 weeks first school, but he is a nice friend who I made in Omunicom. We arrived at around 10 AM. We met each other and had last talking time. That was nice but mede us sad. Many of us cried. The time that we share was long and really fun. That's why we don't wanna lose that life. But she must have gone. That is the pain of parting. Tomorrow three of my friends are gonna leave Calgary. And I gotta get up earlier than today to go to airport.
Today was the graduation ceremony day. Many of my friends in GV graduated.
Actually I also did.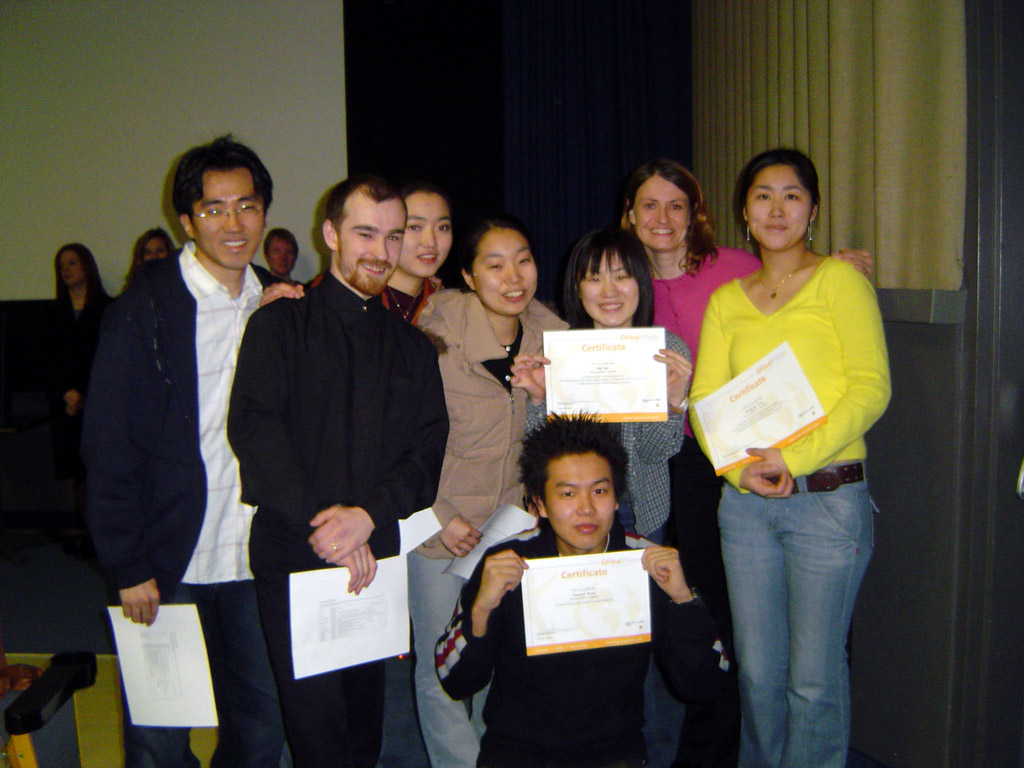 After ceremony, we went to a Korean restaurant for lunch. We had a buffet. During lunch, we really really enjoyed talking. That was last time to talk with these member. I felt really glad and sad. After we enjoyed conversation, we walked around down town and we were apart. For some of them, that was last seeing in Calgary. Then one friend and I killed a time around one hour because we have last meeting with our other friends.
We went to my friends' apartment at around 4:30. We talked a lot about what we did before and how we met first time. We talked about our memories. Also we prepared supper, that would be last supper with these my friends. That was really good time. We left their house around PM10:30, because I will go to the airport to see off one of these friends.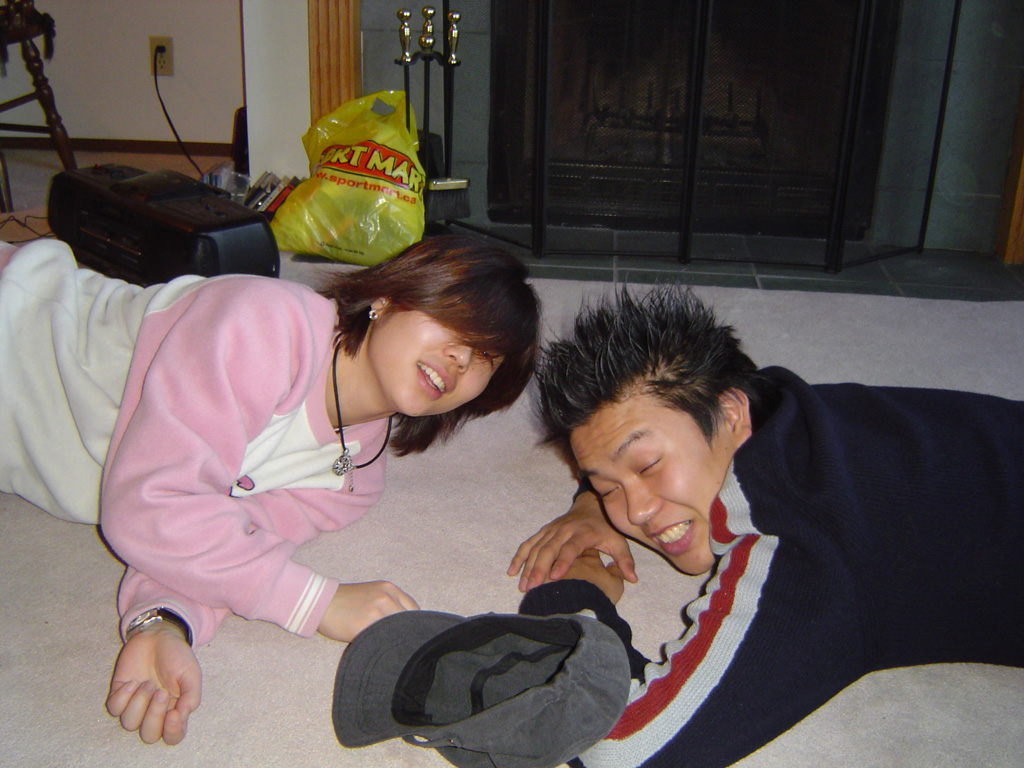 Friday I had a party after class because many of my friends are going back to their own countries. Some are to Korea, others are to Japan. That's really sad, I had, am having a great time with them, but we gotta be apart. Too sad.
I drank much, and fell asleep.
Saturday also friends had a party for one friend, but I was really tired and didn't wanna drink, so I didn't.
Sunday I went to the airport to see off the friend. She was really nice to me and I'm really thankful for her to be kind, even though I met her one month and a few weeks ago. She was gone. Many friends who are staying with me usually are leaving. I'm really gonna feel empty. Sad, sad, sad....